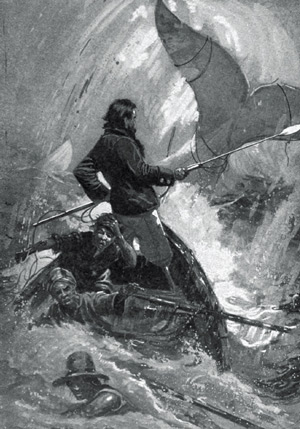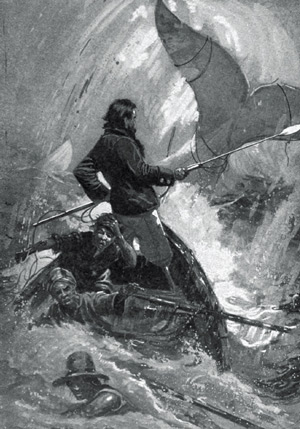 August is a great month to be born. The amount of literary talent born into one of the hottest months of the year is huge and includes everyone from Lord Alfred Tennyson to Mary Shelley. Herman Melville, author of the classic Moby Dick, was born August 1, 1819 in New York City. Well known for writing what is considered to be one of the greatest American novels ever written, there are many less known facts about him.
Born into a well to do, refined family, it became quickly evident that he did not fit in. His own father stated he was "backward in speech and somewhat slow in comprehension." Sent out to sea as a cabin boy to earn money for his family after they were forced to file bankruptcy, he was unfulfilled with this position. Jumping ship with a friend, he was held for four months as captives by the cannibalistic Typee people in French Polynesia. He turned this experience into his first novel, Typee. This book brought him some success as a best seller but soon lost notoriety and he never recovered in his lifetime.
Melville worked diligently to write Moby Dick and was most likely thrilled when it was published in 1851. However, it proved to be a commercial failure thanks to the critics of the time.
"This is an ill-compounded mixture of romance and matter-of-fact," wrote  the London Athenaeum.  "The idea of a connected and collected story has obviously visited and abandoned its writer again and again in the course of composition. The style of his tale is in places disfigured by mad (rather than bad) English; and its catastrophe is hastily, weakly, and obscurely managed."
While he wanted to give public lectures on literature, this too was unsuccessful and needing to make ends meet, he became a customs inspector. This would remain his career until he retired.
Melville was all but forgotten by the literary world at the time of his death, but the 20th century Americans revived his works and Moby Dick is thought of as a masterpiece in world literature.
About The Author

Robert Hatfield hails from mid-western Ohio. Comedy and Adventure stories are his passion. Editing and Reviewing are the fields of work he enjoys. Writing has been an interest for the past 25 years and he now has the time to pursue it. As a Moderator on Thoughtsinc.net, he welcomes any questions or requests for help.
This article is for use by Thoughtsinc.net