A
A
A
January 4, 2014
9:04 pm
Points: 1818
Thanked 3 times
Liberty
 Through ups and downs: toils and snares
There is always something new that lies unaware
Up ahead on this journey we take
Our trials and tribulations we cannot escape
Though they are hard and seem rightly unfair
The heavy load is almost too much to bear
But I recall His word, and I know Jesus is right
 "For My yoke is easy" He said, "and My burden is light
Let Me take away all your stress and take away all your pain
Come lean on Me, my friend, so that none of that remains
For My grace is always sufficient and rest is found by My side
You have done a great job My soldier, but now it's time to step aside"
As you let go of your battle and give it to Him
You realize He's more equipped to bring that fight to an end
For nothing is too big for our Father to face
When He came and defeated death…He accomplished every race
Man is born to live, not to prepare for life. - Boris Pasternak
January 12, 2014
1:12 am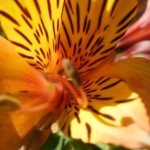 Points: 1350
Thanked 1 times
What a fine message you've expressed here, to give the heavy things to God. And I like your rhyming scheme--the words are fresh, and since the rhymes are not too strict, it helps the flow. I am a little confused by the last line... what does "accomplished every race" mean?
The following users say thank you to Suoaei for this useful post:
JennDTX
Yes, I'm getting something out of this all-encompassing trip.
January 12, 2014
7:01 pm
Points: 5122
Thanked 126 times
This is beautifully written with such a powerful message...I am really in awe of how wonderfully you described what so many people, including myself, often forget. This is such a heartfelt reminder that God is in control. Prayers go out to you and your friend!
The following users say thank you to SerenaLantha for this useful post:
JennDTX
My identity can be found in my writing
January 26, 2014
7:37 pm
Points: 1818
Thanked 3 times
thank you for your feed back, much appreciated and warmly felt more than ever now that we're facing chemo.... @Suoaei, that last line has a very powerful meeting....when our Lord and Savior took our spot and died as our sacrifice...He beat every battle that we should ever face, every sickness, poverty, anxiety, condemnation....even death....everything that we as humans insist on "running a race against" because so often we do....well Jesus has actually accomplished every race for us and we are all running to win what's already been accomplished. When Jesus said "It is finished!!" I believe He meant it :) God Bless you all
Man is born to live, not to prepare for life. - Boris Pasternak
Most Users Online: 144
Currently Online:
17 Guest(s)
Currently Browsing this Page:
1 Guest(s)
Member Stats:
Guest Posters: 8
Members: 11295
Moderators: 7
Admins: 1
Writing Stats:
Groups: 5
Forums: 53
Topics: 3899
Posts: 13775