A
A
A
December 8, 2014
10:24 am
Points: 5016
Thanked 126 times
Often does the quiet night cheer
In celebration of the waning dusk;
To be bold, black, and beautiful
Is the twilight sky's loudest cry
Though the atmosphere is mute.
The stars twinkle in their fanciful
Fashion as if to wink rather than
Whisper, a morse code all their own;
The planets revolve in the utmost  
Restraint lest a sound dared be heard
And create a cosmic clamor
Within the noiseless environment-
Mars, even with his violent roars,
Submits to this reverence of silence
Lest the more swiftly spinning spheres
Suddenly became startled and shook
In solar-systematic surprise
Of this unprecedented celestial sound.
All the busy bodies orbiting the sun
Obey their unspoken code of ethics
Though none truly care for it,
Yearning to hear the familiarity of noise
Which Earth's children are so fond
Of sharing as they laugh, sob, and sigh-
When night falls, all the world strains to hear
A second's worth of sound while half
Of Earth grows hushed and still in slumber's
Sweet serenity, yearning to seize
The fading end of a child's echoed cry,
The last sound the universe might grasp
Before the stirring sun's eventual rise;
Yet, the quaint, cratered moon
Longs the most to hold the mumbled memories
Of parents' chides and lovers' goodbyes
In its heavy, hardened heart.
Hidden behind a hazing mist,
It offers light and idolatry in its stretching shine
In desperate attempts to earn another's audible
Acknowledgment before the sun and daylight
Can force it back into solitude's cruel silence;
A cirrus cloud's wisp make shield the crescent's sight,
But it cannot prevent the kiss radiating from the moonglow;
No, neither can the stubborn, selfish sun
Seek to send the moon to an early decay in the name
Of an endless and universal silence
When all the world knows that only when a babe
Hears its whimpering mother's muffled voice
Does life truly commence.
My identity can be found in my writing
December 9, 2014
3:56 pm
Points: 4335
Thanked 105 times
December 10, 2014
12:54 am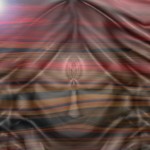 Points: 5251
Thanked 115 times
Most Users Online: 144
Currently Online:
12 Guest(s)
Currently Browsing this Page:
1 Guest(s)
Member Stats:
Guest Posters: 8
Members: 6601
Moderators: 7
Admins: 1
Writing Stats:
Groups: 5
Forums: 53
Topics: 3526
Posts: 13395