A
A
A
June 11, 2012
12:22 pm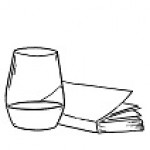 Points: 12077
Thanked 228 times
Dog-tired
Sleep is a dog,
who never comes when you call,
hind legs perched and crouched to assault,
wet-nose snorts, and growls through drooling teeth.
He senses my rhythm when I breathe deep
and nips without forgiveness at heels of counted sheep.
I try to sedate him with drugs and drink,
but there's no loyalty in this man's best friend,
ears perk, paws twitch and jerk
when dreams come romping in.
Sleep is a dog,
the bad boyfriend who cheats,
late night work, lipstick shirt, all signs I should heed.
I play digital-clock solitaire each maddening night.
It's a gamble, turn and toss, throwing the dice.
AM or PM? Red or black roulette spin—
marble bouncing 'round, to and fro in my head.
No mercy from torment—a dog-pile of stress,
door scratching and the chewing of shoes,
bitten postal workers, and howling moons.
Sleep is a dog,
who failed obedience school.
I've taken all advice, both kind and cruel.
Kindness attempts are risky and pointless,
my begging returns not any benevolence.
A badly kept pet, cornered by too much caffeine,
chained to a house of poor decision making.
Maybe with age drowsiness comes too soon,
and I'll yearn for alertness, the restlessness of youth,
but tonight, I'm exhausted from this animal agitation.
For now, I'm rolling up the Sunday edition.
Wine is bottled poetry. ~ Robert Louis Stevenson
June 21, 2012
1:26 am
Points: 1375
Thanked 0 times
Most Users Online: 144
Currently Online:
10 Guest(s)
Currently Browsing this Page:
1 Guest(s)
Member Stats:
Guest Posters: 8
Members: 10794
Moderators: 7
Admins: 1
Writing Stats:
Groups: 5
Forums: 53
Topics: 3842
Posts: 13716