A
A
A
January 4, 2014
2:25 pm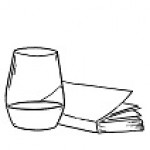 Points: 11924
Thanked 228 times
A BIG New Years welcome to our latest new members @helicon , @n0b0dy , @staceycockram , and @craigb12 .
I hope you've all had a chance to vote for the two holiday contests. Contests come up about every month (sometimes more often). If you have any questions, feel free to message the moderators or respond to this post. For more info about us, check out this page and scroll down to the Meet the Moderators section: http://thoughtsinc.net/about/. 
We'd love to know more about you as well, so if you have a moment to share a quick bio, feel free to reply to this post.
Wine is bottled poetry. ~ Robert Louis Stevenson
January 10, 2014
4:10 pm
Points: 4275
Thanked 105 times
Hi fellow writers My name is craig  im from England and have two books out there in this big world,  Im think what a brilliant way to express thoughts, thru this site. Im currently writing a teen novel hoping it will be my third success, I for one will continue writing one off quirks whilst on this site, good idea who ever thought of it.
The following users say thank you to craigb12 for this useful post:
tlhopkinson
January 11, 2014
12:58 pm
Points: 2050
Thanked 49 times
@craigb12 are your other books for teen fiction? What are they called?
As a teen I would be really interested in reading them
'Books aren't written, they're rewritten. Including your own. It is one of the hardest things to accept, especially after the seventh rewrite hasn't quite done it... Michael Crichton
January 11, 2014
4:54 pm
Points: 4275
Thanked 105 times
January 12, 2014
12:09 pm
Points: 2050
Thanked 49 times
That's a shame.
Good luck on your teen novel. I'm also working on one as well.
If you ever want help with it then just ask, being a teen, I might be able to help with the lingo.
My first draft is nearing completion so if your daughter could read it that would be great.
'Books aren't written, they're rewritten. Including your own. It is one of the hardest things to accept, especially after the seventh rewrite hasn't quite done it... Michael Crichton
January 12, 2014
2:15 pm
Points: 4275
Thanked 105 times
July 21, 2017
1:34 am
Points: 266
Thanked 0 times
Most Users Online: 144
Currently Online:
13 Guest(s)
Currently Browsing this Page:
1 Guest(s)
Member Stats:
Guest Posters: 8
Members: 5469
Moderators: 7
Admins: 1
Writing Stats:
Groups: 5
Forums: 53
Topics: 3513
Posts: 13379