A
A
A
February 24, 2014
12:33 am
Points: 1437
Thanked 1 times
This is a story told to me by a friend, that happen to his friend's Mother.
I call it.
                         Sorry
The doctor told Miss Brackson. "I'm so sorry to tell you this;
but you have only Six months to live."
Miss Brackson was in shock, she became teary and said. "Thank you Doctor for being honest with me."
She went home and told her son by saying. "I'm going to join your Farther, the Doctor Gave me six months."
Her son cried and asked. "Is he sure, What is it?"
"I'm not sure exactly, some kind of Cancer." She said sadly.
They hugged and cried together, and he said I'll take care of you Mom.
After four months her son would call every other day, and visit on the weekends.
He would always ask her how she felt, the answer was always the same.
"Oh I'm fine, I don't feel sick at all?"
The son suggested a second opinion, so she made an appointment with another doctor.
Who sent for her records from the first clinic.
Then he called her in and talk to her.
"I'm sorry Miss Brackson you have only a month to live."
"Thank you Doctor." She said leaving. On the way home she stopped at the local cemetery and Bought a plot and a casket, when she got home she checked her Will and put it where it could be found easily. Them she called her Son, " He gave me a month."
After the sixth month her Son would walk in and ask. Hi Mom How do you feel, are you Dead yet?
And she would answer sarcastically. " No I'm not! .. And I feel just fine!"
After eight months Her son still walking in and asking .
"Hi Mom. Are you dead yet?"
She answers.
"No! .. I'm .. Not! .. I feel fine! And it's pissing me Off!
Come on! You and I are going to see that Doctor right now!
If I'm not dead by Friday I'm going to get my money back!"
They went to the clinic and she asked to see the Doctor,
Angrily she asked the doctor why she wasn't dead.
He got up and asked the Nurse. "Can I have this patient's records."
When he was giving the charts He was told that they were copy's.
Then he sat down and said. Well now lets see, .. Well Miss Jackson According to this, You are dead!
Two months ago.
She corrects him. "Jackson? My name's not Jackson! It's Brackson."
The doctor them gets up and calls the Nurse. "I asked for Miss Brackson's Charts?"
The Nurse points out. "This is her Charts? See its on the folder;  Emma Brackson."
The Confused doctor requests. "Bring Me Emma Jackson's Charts!"
A few moments later he was reading the other records and.
"I don't know how this could ever have happened, The charts are Identical!
Some how a duplicate set of charts went into your folder. And no one caught it!
Not even the other Doctor you went to see. I'm sorry!"
Upset and angry Miss Brackson says. "Sorry! Do you know what I went through The past year?
The money I wasted on my burial, Not too mention my Son. Someone is going to pay for this!"
And they did pay, She received all the money back she spent on her burial, and then some.
When she is ready to move on to the next world, it's all paid for. And her son has free medical for the next five years. I guess, no one is perfect, not even doctors.
                                           End
February 24, 2014
10:07 am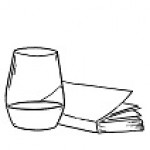 Points: 11878
Thanked 228 times
Some how, that doesn't surprise me! Great story!
The following users say thank you to tlhopkinson for this useful post:
lnolan
Wine is bottled poetry. ~ Robert Louis Stevenson
February 25, 2014
12:14 am
Points: 1437
Thanked 1 times
March 1, 2014
10:36 am
Points: 4910
Thanked 126 times
Wow, this stunned me! I would be ticked too...
The following users say thank you to SerenaLantha for this useful post:
lnolan
My identity can be found in my writing
March 1, 2014
10:27 pm
Points: 1437
Thanked 1 times
Most Users Online: 144
Currently Online:
7 Guest(s)
Currently Browsing this Page:
1 Guest(s)
Member Stats:
Guest Posters: 8
Members: 4802
Moderators: 7
Admins: 1
Writing Stats:
Groups: 5
Forums: 53
Topics: 3507
Posts: 13372