A
A
A
July 26, 2014
5:28 am
Points: 785
Thanked 1 times
Coming from a Latin word that means "room". Something about light shining through an incredibly tiny hole of a wall of a dark room.
4 words: I. Hate. The. Camera.
They always came for me, to take me, put me on a piece of paper, and then hanging me up somewhere for all the disgusting human Realist scum to see.
In primary school, some woman – white, a bit old, blonde hair, dark trousers I think, blue cardigan and a white top – from something called "Tempest Photography" came every year to take a photo of me, of us, of the class, of the whole school.
It'd happen at break-time. We were all in the lower floor assembly hall. From the shortest who were sitting, to the tallest, who were standing on the benches – I was one of the tallest. And also the most depressed.
I was the only one who never smiled in the photo. They encouraged smiling, of course the disgusting Realist would, but I didn't. I never did. I never succumbed to the Photo Realist's will. I never would.
But Child Nuisance Realist first-younger sister Hannah did.
Idiot.
Potential Lady Nuisance Realist second-older sister Sharon did.
Wh*re.
Potentially True Lady Nuisance Realist first-older sister Bridget did.
That b*tch.
And last but not least, even Occasionally Potential Child Nuisance Realist second-younger sister Abigail did.
Little mother f*cker.
They were a peaceful quartet of smiling sisters, grinning from ear to ear.
They were smiling the mad smiles of death and decapitation.
July 26, 2014
12:24 pm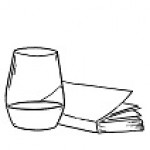 Points: 11862
Thanked 228 times
Welcome to Thoughts! @theaustiman . I can tell already you will be well-read here in this forum. This was a great short piece and your voice is honest and concise while still giving so much information. I quite enjoyed it!
Wine is bottled poetry. ~ Robert Louis Stevenson
Most Users Online: 144
Currently Online: vickieqr11
11 Guest(s)
Currently Browsing this Page:
1 Guest(s)
Member Stats:
Guest Posters: 8
Members: 4655
Moderators: 7
Admins: 1
Writing Stats:
Groups: 5
Forums: 53
Topics: 3504
Posts: 13368