A
A
A
September 21, 2014
8:03 pm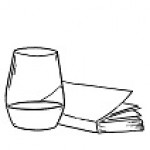 Points: 12003
Thanked 228 times
We have no word
of motives. There were no
droopy tuxedos, Cab Calloways of the soul, at the soul's juncture.
A reality is what it is. This suffering truth?
It is a human love. I live inside a bony skeleton.
How fitful and indecent consciousness is.
The real terror of nature is humanity enraged—the true
being ignorant, comfortably
grown like skirts around breathing,
till you suffocate & fall dead,
shedding the stone
while your flesh burns,
the leather cracks, and pure men claw at their bodies
of life. Ah . . .
the vague indifference
caught from the philosophers,
the moon, or the shadows of houses.
--Each complete line was taken from a Amiri Baraka poem and is listed in the following order: "Incident," "A Poem for Speculative Hipsters," "A Contract. (For the Destruction and Rebuilding of Paterson)," "History as a Process," "An Agony. As Now." "The New World," "A New Reality Is Better Than a New Movie!" "Political Poem," "Snake Eyes," "Way Out West," "Valéry as Dictator," "Babylon Revisited," "Death Is Not As Natural As You Fags Seem to Think," "As a Possible Lover," "Like Rousseau," "Balboa, the Entertainer," "Legacy."
Wine is bottled poetry. ~ Robert Louis Stevenson
Most Users Online: 144
Currently Online:
19 Guest(s)
Currently Browsing this Page:
1 Guest(s)
Member Stats:
Guest Posters: 8
Members: 7202
Moderators: 7
Admins: 1
Writing Stats:
Groups: 5
Forums: 53
Topics: 3616
Posts: 13485