A
A
A
December 6, 2014
6:33 pm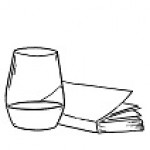 Points: 12003
Thanked 228 times
(This poem was published by Silver Birch Press earlier this week and displayed with lovely Picasso art. You can see the original post here: http://silverbirchpress.wordpress.com/2014/12/04/reconstructed-happiness-by-trish-hopkinson-i-am-waiting-poetry-series/)
a found poem in reverse of Ferlinghetti's "I Am Waiting"
by Trish Hopkinson
I am fleeing.
Perpetually,
I am my typewriter.
I am green.
I am my childhood.
I am wonder.
I am the dream
of innocence in Wonderland
and I am Tom Sawyer
and I am birth, music, sound
and I am reconstructed
happiness, the storms of life
and eternal life discovered.
I am anxiously new.
I am like rain
and I am the earth
and I am salvation waiting
to be called.
I am perpetually new again.
I am the channel.
Really, I am.
I am the state of revival,
a birth of wonder—
perpetually, I am.
I am anarchy.
I am waiting to up and fly.
I am a new discovery.
I wail.
I am someone
and I am,
I am waiting.
NOTE FROM THE AUTHOR: "Reconstructed Happiness" is a new poem written specifically for this series. I wanted to delve into "I am Waiting" with the careful reading that writing found poetry provides. The repetition in the poem presented a challenge in creating something new enough to become a found poem able to stand on its own, so I reversed the order of the lines for a different approach. The last line became the first, and all other lines followed until the first line became the last. Something unique emerged as I erased phrases and words–a poem with the theme of not becoming something new, but rather being something new. A reconstructed happiness of sorts arose from an original work expressing a tone of dissatisfaction.
Wine is bottled poetry. ~ Robert Louis Stevenson
Most Users Online: 144
Currently Online:
17 Guest(s)
Currently Browsing this Page:
1 Guest(s)
Member Stats:
Guest Posters: 8
Members: 7202
Moderators: 7
Admins: 1
Writing Stats:
Groups: 5
Forums: 53
Topics: 3616
Posts: 13485