A
A
A
February 5, 2015
8:59 pm
Points: 5081
Thanked 126 times
A list-of names, of dates, of people too-
On papers torn from the texts of scholars
And lined with ruled streaks of red or blue;
On fingers counted multiple times   
Until a number greater than ten can
Be achieved though they be numb
From pricking and washed red with blood
Or bathed in the snow and colored blue;
On petals of roses or lilies which we tear
From the tips in brutal infatuation,
Questioning the last limp adornment
If others might love us too;
We scribble the names of friends
And adolescent attractions, places
We would like to visit if given the chance,
And the final things we would like to do
If given the time or date or location
When we might turn the desperate shade
Of gasping, breathless blue;
We write the world and our perceptions
On the margins of discarded diaries
In calligraphy style as if transporting
Our thoughts from the mind to the page
Could make them become any more true
Then scrawl the names of our own
On the heavy slates of hardened hearts
In disturbing, blood red ink
Or the same color as our risen veins-
A most chilling indigo hue.
This is an imitation poem (homework assignment) imitating the poet Terrance Hayes whose work I am having to read for poetry class. The use of lists and series seems to be one of his key themes.
My identity can be found in my writing
February 6, 2015
6:00 pm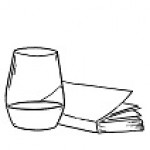 Points: 12049
Thanked 228 times
I love list poems! This is quite lovely. Well done!
The following users say thank you to tlhopkinson for this useful post:
SerenaLantha
Wine is bottled poetry. ~ Robert Louis Stevenson
Most Users Online: 144
Currently Online: niajax1122
25 Guest(s)
Currently Browsing this Page:
1 Guest(s)
Member Stats:
Guest Posters: 8
Members: 9536
Moderators: 7
Admins: 1
Writing Stats:
Groups: 5
Forums: 53
Topics: 3709
Posts: 13582