A
A
A
August 26, 2012
2:39 am
Points: 2592
Thanked 37 times
I am consumed by time or now or some such thing that grew me when I was small and now diminishes what it is I am become.  At every turning I endeavor to dis-remember I'm not forever, ignoring the contrariwise occurrences occurring to my mind, body…soul?  But during the all alone times when sleep eludes endeavor, when that voice voices memories I most wish gone remind me I am much less than I show, I seek escape into the black.  Take me now, take me back to the time, the now, the whatever it was before.  Reabsorb the six, sight, and sound, smell, taste, feel, my mind.  The heartache, the un-natural shocks, the un-kindnesses done, the uncaring, and the uncared, the thousand and one other sorrows, day by night and day again, the parade of the lost.  I cannot deal any longer.  I forfeit this insane game in the name of the sane, if powerless.  Do supernatural brokers claim that I'm the one to blame, do they attempt to impose a universal guilt?  They play their cards and I almost believe as I microscopically explore every motive and discover I must accept the guilt of ignorance.  But I swear that it was not with evil intent I found myself the cause of anyone's discontent.  I was guided by misplaced ignorance and would submit my self to a justified penance, but I am rendered justice by some unknowable cosmic scale by which I must fail.  The judgment falls, I will never be divine enough. I am judged too human.  Blackness that has no name, swallow whole these unwholesome thoughts and perform the rites of annihilation, no heavenly reward, no hellfire conflagration, just the black that was before.  Just black justice I implore.  I bore the pain I could and more I cannot endure, I cannot, cannot any more.  I place my hands upon my chest, close my eyes in almost rest, and I am ready.  Ready as I never was, in the all alone times that came, in all the being consumed times that came, before.
August 26, 2012
10:15 am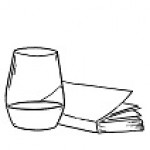 Points: 12076
Thanked 228 times
Wow, this reads really well and is a great topic. My only suggestion would be to add some more concrete descriptions and metaphors. A lot of it is abstract, which makes it feel a bit like a rant, and that may have been the purpose

. I do love me some metaphors!
Wine is bottled poetry. ~ Robert Louis Stevenson
Most Users Online: 144
Currently Online:
21 Guest(s)
Currently Browsing this Page:
1 Guest(s)
Member Stats:
Guest Posters: 8
Members: 10724
Moderators: 7
Admins: 1
Writing Stats:
Groups: 5
Forums: 53
Topics: 3837
Posts: 13711