A
A
A
February 9, 2015
12:50 pm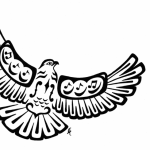 Points: 1754
Thanked 2 times
I need to meet a 25 page deadline by Friday, and i don't know what to write about, so i thought i'd give this game another go!  The way it worked in my class was: we started by writing a setting, folded the paper over, and passed it over to someone else.  Then we would write characters on the new paper we got, then pass it on again.  then theres a prop, pass it on.  finally we wrote a line, and unfolded the paper and had our prompt.  
Heres how it can work here...
There are a total of 4 prompts i need filled, and you can only pick one to fill out.  
The prompts are:
Setting: Where does the play take place?
Characters: give at least 2 characters (no more than 4).  You don't have to give a name, but you must give a description like "a talking cat who lived in Italy". 
Prop: At least 1 prop that will appear and be used in the play. 
Line: A line that has to be spoken in the play.  
 I'll take one idea from each prompt, and put it all together for a play.  I did this for the class and ended up getting:
Setting: A gated community in california
Characters: a talking cat, a witch who can only make bubbles, a grumpy person with a toothache, and a small child that likes tormenting creatures.
Prop: Baton
Line: "the pirates!  they stole the popcorn! we're doomed!" 
I ended up with a 14 page play about babysitters and small children that attempted to be a playwright and dragged their friends into taking their newest creation for a test drive.  
Thanks everyone!  
~Aj-anba
"He who does not know can know from learning"
February 9, 2015
2:57 pm
Points: 4245
Thanked 105 times
hya, u may want to put this subject in the essay department ha ha, but ok I have two characters in mind, man and woman, prop is a park bench unrelated,
line is " I come here every day, but never again"
goodluck
The following users say thank you to craigb12 for this useful post:
Aj-anba
Most Users Online: 144
Currently Online:
22 Guest(s)
Currently Browsing this Page:
1 Guest(s)
Member Stats:
Guest Posters: 8
Members: 4903
Moderators: 7
Admins: 1
Writing Stats:
Groups: 5
Forums: 53
Topics: 3507
Posts: 13372