A
A
A
October 11, 2013
10:33 pm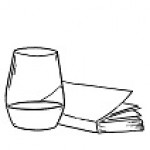 Points: 12046
Thanked 228 times
I don't love either one, frankly, I'm ready to trash them both and see if I can come up with something better... so which one do you prefer? Suggestions for making them not suck?
The hinged mirror cabinet
like an unlocked safe of secrets
reflecting guilt as it swings open.
Bathroom dust collects on shelves
and exposes a paranoia of stained teeth,
whitening toothpaste, whitening strips,
whitening mouthwash, and toothpicks.
An insomniac with back pain,
with paper cuts and splinters,
with razor burn and pimples
must hover here at the sink
and fill his hands with water
to splash against his face.
A sensitive man always
takes time with his routine,
applies aftershave,
always rinses and repeats.
A well-groomed man trims his nails,
both hands and feet,
trims whiskers threatening to protrude
from nostrils, ears and v-necks,
and parts and combs, then tousles.
Only one cologne rests eagerly on the counter
as if it was the last item used.
"A glass of wine?" calls from the kitchen,
A startled smile shuts the mirror
and opens the door with optimism.
"Your Virginia Maid Treasure Chest Inventory"
The mid-century hope chest sits alone along one wall
a reminder of subservience, pushed to perfection like
a skirt hem between the presser foot and feed dog of my mother's Singer.
Everything from the 50s came with instructions—
how to starch shirts, how to iron a perfect pleat.
A simple two-tone print on cardstock sits beneath the cedar-lined lid
with orange headings and orderly black typescript
divulging enigmas, such as which gifts are fit to fill it.
Specifics list luncheon linens and lace cloths
in white, pastel, or other gay colors to compliment
the pattern of your china, with damask to match.
For bedrooms, of course, pillowcases and sheets,
dressing table covers, bedspreads, and blankets.
For kitchen and bath, six hand towels, six bath towels,
and four washcloths (for each person), two bath mats
and one shower curtain; potholders and cloths for washing-up work,
dish towels and paper towels with paper towel holder.
All truly important for the perfect home-maker,
the perfect virgin maid with perfect etiquette.
How presumptuous of this little cedar chest,
so full of hope that girls don't need confidence and worth,
folded neatly and well-preserved, don't need college funds
or careers, whether white, pastel or gay-colored,
don't need birth control or vibrating dildos,
or anything else that might help satisfy themselves.
A girl needs no protection outside of her potholders,
no condoms or cans of pepper spray
as long as she's able to set a proper table,
as long as she's chosen.
I had a cedar chest once, clunky and plain sitting in my mother's basement
and desperately needing to be refinished.
She filled it with the extra set of dishes, just four settings,
fabric pieces and parts, quilt squares and embroidery;
eventually it became a bureau for things with no other place. 
Wine is bottled poetry. ~ Robert Louis Stevenson
Most Users Online: 144
Currently Online:
12 Guest(s)
Currently Browsing this Page:
1 Guest(s)
Member Stats:
Guest Posters: 8
Members: 9410
Moderators: 7
Admins: 1
Writing Stats:
Groups: 5
Forums: 53
Topics: 3698
Posts: 13570