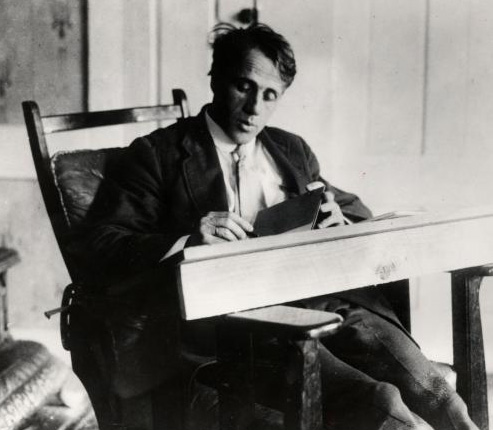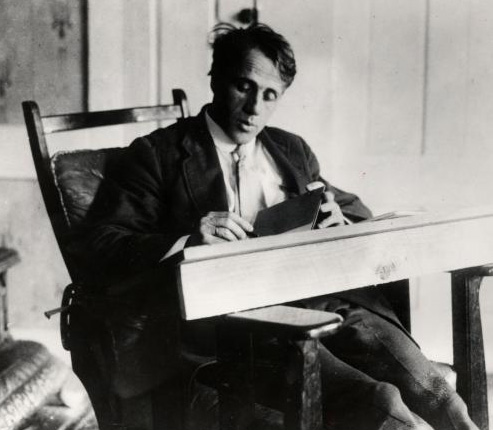 Robert Frost was born in California in 1874. His mother moved the family to Massachusetts to stay with his grandfather when his father died when Robert was 12 years old. Later, Frost was married and struggled as a business man trying several endeavors, all proving to be unsuccessful. One such venture brought him to the countryside as a poultry farmer, where although the business was not successful, he did become accustom to the rural setting and found a talent for poetry using this setting.
In the 1906 he published two poems but was unable to find publishers willing to put any of his other works to print. In 1912 Robert moved his family to England believing more publishers would find appreciation for his writings. This proved to be true. Within just a few months, Frost found a publisher who would put his first book of poems, A Boy's Will, followed by North of Boston, to print.
Robert met Ezra Pound and Edward Thomas and his new friends read his work and gave him encouragement. Frost's poem "The Road Not Taken" was inspired by Edward during long walks along the landscapes near their home. Thomas tended to fret over decisions about the choosing of paths. The poet was disappointed in his friend's not recognizing the poem was written about him.
WW1 began and Frost moved back to America and was met well by publishers. Many of his works written in England were published. Those that had rejected him earlier were now interested and Frost, of course, sent them copies of the works they had rejected.
In 1916, Frost settled once again on a farm and began teaching English and continued for more than 45 years always working on his poetry. He received over 40 honorary degrees and 4 Pulitzers for writings during his lifetime of 88 years.
Frost died in January of 1963 and his ashes lie in the landscape of Vermont.
I find Robert Frost poems to be written in a truly original style. These captured moments require skill to finesse their meanings and his personality shows in subtle words and lines that can be overlooked and we can draw the wrong conclusions of exactly what he is writing. His desire to write in his own way and reject popular styles and rules of writing gave him the ability to thumb his nose, so to speak, at those who thought he would fail. This is my opinion.
See what you can learn about this early American writer at: http://www.frostfriends.org/
About The Author

Robert Hatfield hails from mid-western Ohio. Comedy and Adventure stories are his passion. Editing and Reviewing are the fields of work he enjoys. Writing has been an interest for the past 25 years and he now has the time to pursue it. As a Moderator on Thoughtsinc.net, he welcomes any questions or requests for help.
This article is for use by Thoughtsinc.net