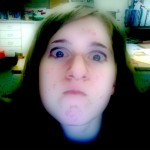 @ilovebooks12
active 6 years, 3 months ago
Profile
Display Name

ILoveBooks12

First Name

Hannah

Location

Somewhere on Earth

About Me

Writing is one of the things I'm good at and I really hope people will see my stories and comment good things. I don't really want any haters on my site, please and if you subscribe to me, I'll love you forever and ever!
I also like to draw and I play the violin and a bit of the guitar.
I know my profile looks weird, but I'm honestly a pretty quirky person once you're a really good friend of mine.

Favorite Author(s)

Oh wow. John Flanagan is one of my favorites! Definitely. I finished his latest book, Brotherband book number three and it was really good! I love Clare D. Dunkle, I've read part of the trilogy, the Hollow Kingdom, and another of her books called, By These Ten Bones. And I've been reading Harry Potter lately, always a good one by J.K. Rowling.