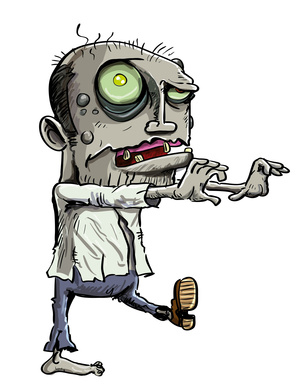 If you're like me then you'll want to spend some time this October reading scary stories. One comes to mind immediately as I think of what scares the younger generation and that would be zombies. For some reason it has become part of the belief system of today's youth that an apocalypse is on its way. It is mentioned in a light-hearted manner but the thought itself is deeply rooted. This embedded thought can only fuel a good apocalypse story.
If you haven't already gone out to see the movie then you're in for a treat. The book, "World War Z," by Max Brooks is a serious fictional account of a break-out of a virus that spreads around the world. Governments try to contain the wide spreading havoc but fails. It is a follow-up to his comical "Zombie Survival Guide".
Max Brooks was born in 1972. He wrote for "Saturday Night Live" in 2002 and 2003. I find it amazing to have learned he is the son of Mel Brooks and Anne Bancroft. He has written in two oddly matched genres, horror and humor, (in my opinion). He can make you wet your pants and laugh about it.
I want to add that World War Z is not your typically lame zombie rendition. Action packed from the start and filled with a horrifying adventurous plot. His descriptive story of the end of the world is far beyond the current beliefs of zombies.
So, when you've carved out the pumpkins and filled the house and yard with Halloween spooks and witches, settle down with a copy of World War Z. I guarantee that every bump in the night will have you looking over your shoulder.
About the Author
Robert Hatfield hails from mid-western Ohio. Comedy and Adventure stories are his passion. Editing and Reviewing are the fields of work he enjoys. Writing has been an interest for the past 25 years and he now has the time to pursue it. As a Moderator on Thoughtsinc.net, he welcomes any questions or requests for help.
This article is for use by Thoughtsinc.net